OUR MISSION
To build the best structures in the world,

creating innovative solutions that reduce waste and improve lives
Built Prefab designs, manufactures and installs premium prefab modular buildings. Our focus is on prefab modular construction, technology and innovation to create beautiful and sustainable structures. By design, our sales and building processes are simplified. All of our modules are built on a fixed cost and fixed timeframe.
GET STARTED NOW
Our Offering
Built Prefab is a full service business dedicated to serving its customers.
Design
Built Prefab's design department, Built Labs works from the ground up using the latest 3D design software and coordinate between architects, engineers, planning authorities and production.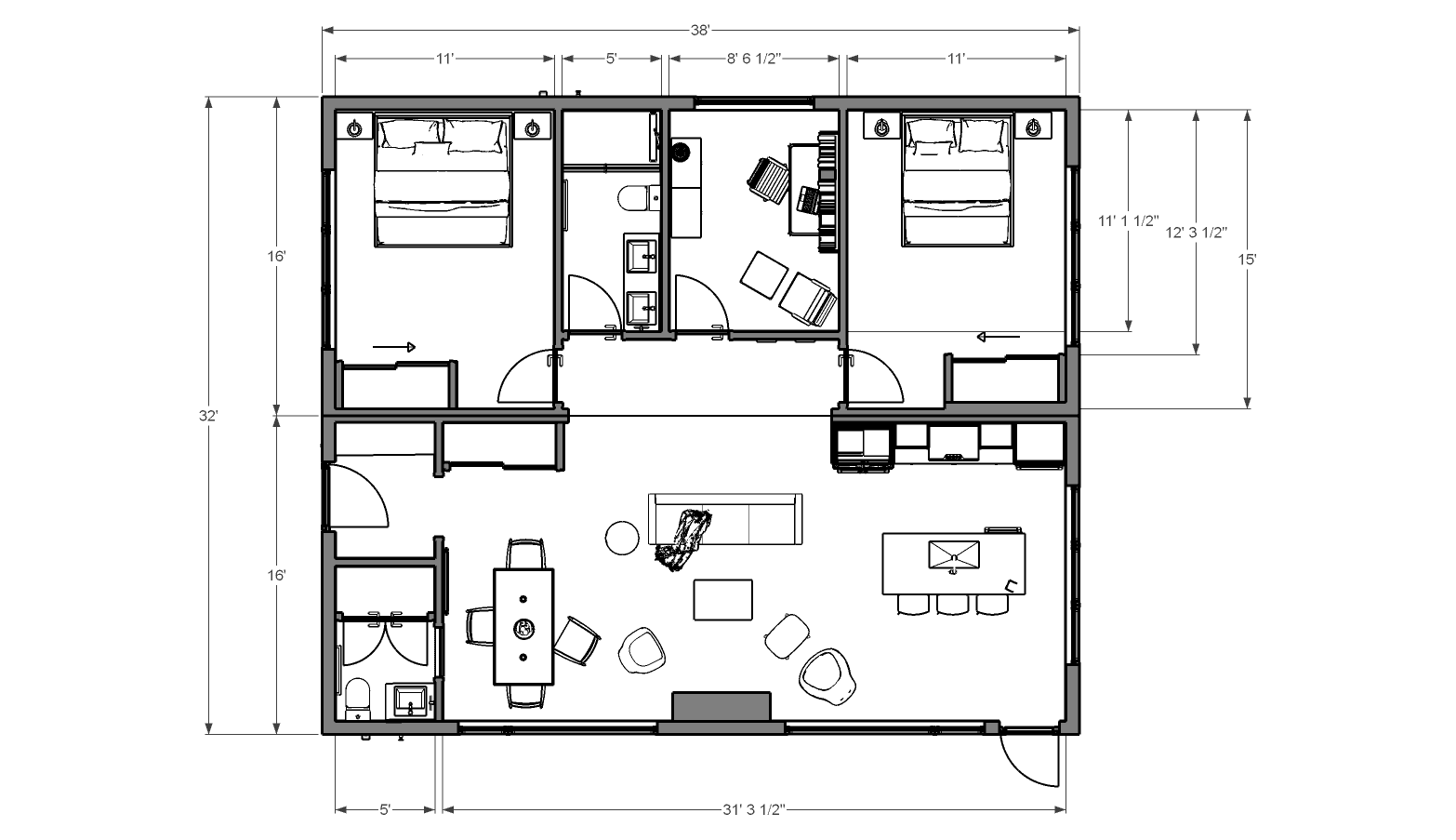 Manufacture
Our buildings are built indoors, away from the elements utilizing Toyota style one piece flow manufacturing with a focus on people and continuous improvement working with some of the most experienced modular builders in the business.
Install
Built offers full modular installation services including all site coordination, logistics and completion.
Environmentally Conscious
We believe that the Built environment meets principles of ecological sustainability.
DESIGN
The intention of sustainable design is to eliminate negative environmental impact completely through skillful, sensitive design.
BUILDING PERFORMANCE
Built Prefab designs its homes as a system. Our focus is on creating a superior building envelope utilizing the latest techniques in creating superior weather, air, water and thermal layers and increasing building performance through efficient mechanical systems.
WASTE PREVENTION
Our operations focus on continuous improvement and the ongoing reduction of waste.
OFF SITE CONSTRUCTION
By building each structure offsite, there is less traffic, fewer disturbances to the land and reduced construction schedules all benefiting the environment.
Our Team
We're passionate about prefab and have the experience to deliver.
James Rosowsky
Founder and CEO
James is originally from a small town in East Central Saskatchewan and has been working in Real Estate and Construction for more than 10 years. James started as a full time musician and then became a business lawyer at a national firm in Calgary. After, James started his own firm and began his career in prefab in 2013 with Karoleena Homes. James became the CEO of Karoleena and continued to grow the business until 2016 when the company was sold to Horizon North Manufacturing. Since, James has worked with one of the leading mass timber installers in North America, Seagate Structures, as the Chief Strategy Officer, and founded Built Prefab in 2019 to pursue modular construction. James is a big picture thinker that loves to come up with innovative approaches to tough problems.
Ian Garrity
Co-Founder and President
Ian was born and raised in Philadelphia, PA and has been involved in development and construction for more than 10 years. Ian got his start with the Parec-Cyma Group and then gained significant experience in Project Management overseeing multi-million dollar custom site-built residential construction, and was subsequently a Project Manager on the BP Amoco Deepwater Horizon litigation in the US. Ian moved to Canada in 2006 and was one of the developers and co-founders of the Nowhere Special bar and hotel at Red Mountain in Rossland, BC. In 2015, Ian began his career in prefab and modular construction, first as a Project Manager at Karoleena Homes based in Okanagan Falls, BC and then later in Business Development for the San Francisco based high end modular startup Dvele. Ian's skills include sales and project management, real estate, business organization and communication, among others. His modus operandi is to make sure that no detail is left unconsidered.
Josh Pozzobon
Lead Architectural Designer
Josh was born in Richmond, BC and was raised in Keremeos, BC, a small town in the southern interior. Josh has been involved in the construction and design industry since 2016, originally starting out as a labourer/builder in highschool, giving him a strong working knowledge of construction and what goes into building a home.
Josh has been with Built Prefab since 2020 and is well versed in 3D design software, such as Sketchup, Lumion, ChiefArchitect, Enscape, AutoCAD
and Revit. Josh graduated in 2019 from Thompson Rivers University with a Diploma in Architectural Engineering and Technology, and added a Bachelor's Degree the following year.
Josh has grand plans for the future, eventually wanting to get his Masters Degree in Architecture and becoming a certified Architect.
Josh is a hard worker who carefully thinks through problems and is comfortable adapting to the situation.
Start your design today!
Get started on your design today with Built Prefab. Choose from a staged approach to your standard design, or complete the entire package at once and receive a discount.
BUILT BLOG
Latest from Our Blog
Check out our blog to read more about various prefab and modular construction topics.
CONNECT WITH US
Contact us
We'd love to talk about your project.